CERMi News
*******
Thursday, February 02, 2023
The European Microfinance Network (EMN) has launched the call for papers for the European Microfinance Research Award 2023.
Thanks to the support of the European Investment Fund, EMN offers a EUR 2,000 prize to the winner who'll be also invited to attend the EMN Annual Conference in Paris (14-16 June 2023).
Topics of interest include, but are not limited to, the following: the role of microfinance to support vulnerable populations (in particular women, migrants and young people) and social entrepreneurs, evidence on the impact of microfinance, the role played by innovative financial technologies in facilitating financial inclusion and (social) entrepreneurship, and the importance and usefulness of non-financial services offered to clients. For this edition, papers exploring the role of green inclusive finance in ensuring a just transition in Europe will be especially valued. Papers eligible for selection should present ongoing or finalised research on issues related to inclusive finance in European countries.
To participate, researchers need to send their abstracts by Thursday, 9th March 2023. All relevant information on how to participate to the Award are available on this dedicated page on the EMN website. See also:
---
Thursday, January 19, 2023
Publication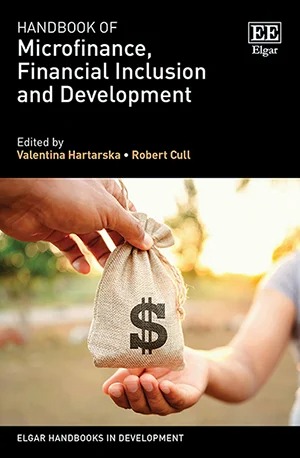 Handbook of Microfinance, Financial Inclusion and Development
Elgar Handbooks in Development
Edited by Valentina Hartarska, Department of Agricultural Economics and Rural Sociology, and Department of Finance, Auburn University, US and Robert Cull, Development Research Group, The World Bank, US.
This timely Handbook collates a range of evidence from top scholars in the field to help readers understand who microfinance reaches, how it helps, and why clients come back. It offers updated views on important concepts that enable a broader framework for understanding poverty and the corresponding financial needs of poor households.
'This is an outstanding collection of contributions from some of the most highly-respected researchers in the field of microfinance. It provides an excellent overview of the evidence on the success and limitations of microfinance and addresses important topics such as gender and finance, digital finance, and financial literacy. A must-read for anyone interested in microfinance.'
– Niels Hermes, University of Groningen, the Netherlands
'An impressive collection of articles on many important aspects of microfinance; written by experts in the field and providing a unique and comprehensive overview of where microfinance stands in the 2020s.'
– Thorsten Beck, European University Institute, Italy
---
Thursday, November 03, 2022
Publication
The Informal Sector and the Environment
Edited By Ranjula Bali Swain & Uma Kambhampati
The informal economy – broadly defined as economic activity that is not subject to government regulation or taxation – sustains a large part of the world's workforce. It is a diverse, complex and growing area of activity. However, being largely unregulated, its impact on the environment has not been closely scrutinised or analysed.
This edited volume demonstrates that the informal sector is a major source of environmental pollution and a major reason behind the environmental degradation accompanying the expansion of economic activity in developing countries. Environmental regulation and economic incentive policies are difficult to implement in this sector because economic units are unregistered, geographically dispersed and difficult to identify. Moreover, given their limited capital base, they cannot afford to pay pollution fees or install pollution abating equipment. Informal manufacturing units often operate under unscientific and unhealthy conditions, further contributing to polluting the environment. The book emphasizes and examines these challenges, and their solutions, encountered in various sectors of the informal economy, including urban waste pickers, small-scale farmers, informal workers, home-based workers, street vendors, and more. If the informal sector is to "Leave no one behind" (as the Sustainable Development Goals promise) and contribute to "inclusive growth" (an objective of the green economy), then its impact on the economy as well as the environment has to be carefully considered.
This book marks a significant contribution to the literature on both the informal economy and sustainable development, and will be of great interest to readers in economics, geography, politics, environment studies and public policy more broadly.
---
Friday, October 21, 2022
Publication
Journal of Institutional and Theoretical Economics (JITE)
SIMON CORNEE, MARC JEGERS & ARIANE SZAFARZ
Feasible Institutions of Social Finance: A Taxonomy
This paper unpacks the continuum of social finance institutions (SFIs), ranging from foundations offering pure grants to social banks supplying soft loans. The in-between category includes quasi-foundations granting loans requiring partial repayment. In our model, SFIs maximize their social contribution arising from financing successful social projects, under a budget constraint dictated by their funders. We determine the feasibility of each SFI category. Quasi-foundations appear to be efficient and adapted to low market rates. However, reciprocity from SFI borrowers can elicit a so-called hold-up effect, whereby the SFI charges a high interest rate to its loyal clients.
---
Tuesday, September 20, 2022
Activity Report
Discover our 2021 Activity Report !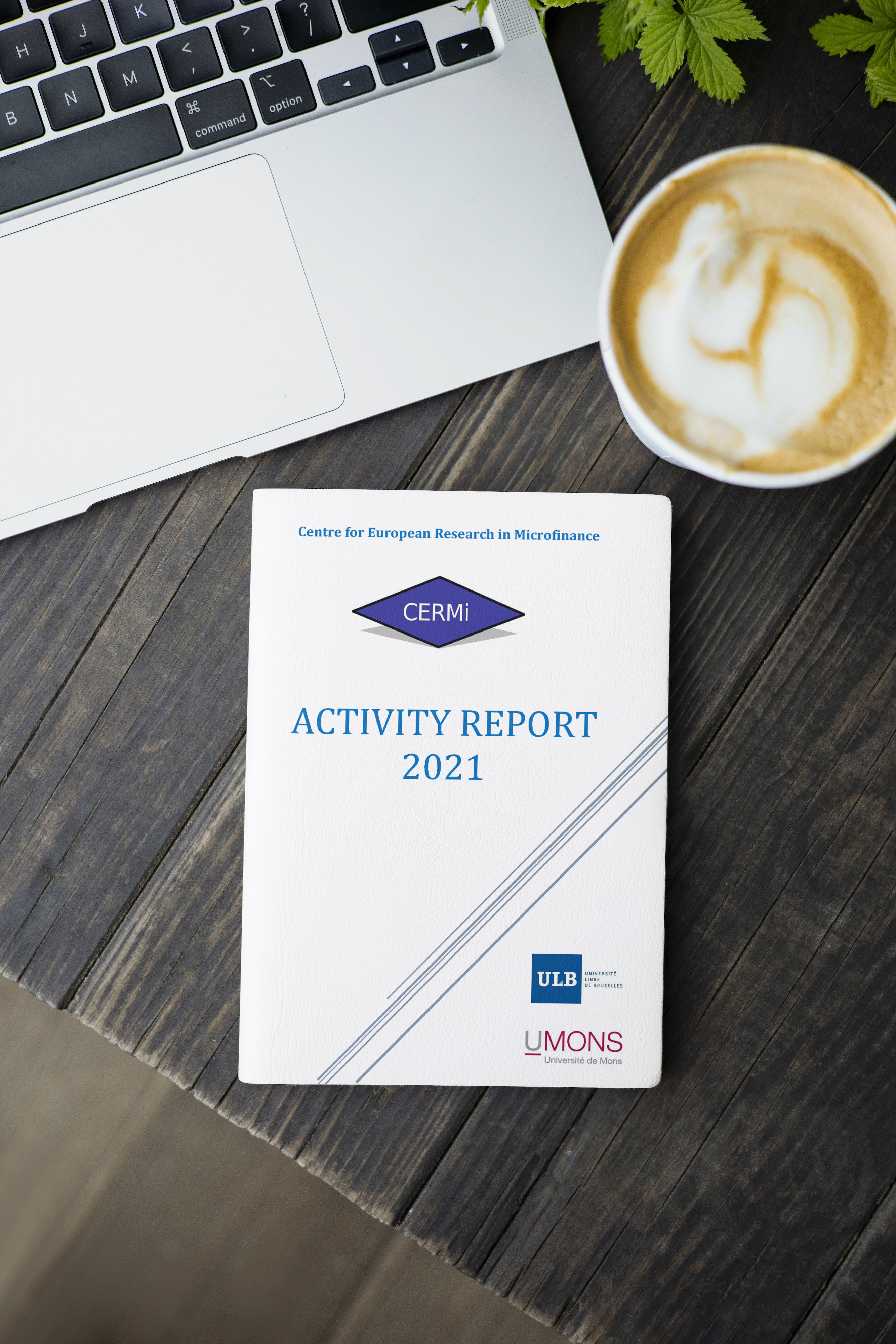 What you'll find in this edition :
Update on our members, seminars in 2021... Awards and prizes and editorial positions of our members...2021 publications by CERMi members as well as conferences...
...and more !
---
Thursday, September 1, 2022
CERMi Seminar
---
Thursday, June 9, 2022
Publication
American Economic Association
MARIE BRIERE, JAMES POTERBA & ARIANE SZAFARZ
---
Thursday, May 12, 2022
Publication
Small Business Economics
ANAIS PERILLEUX & ARIANE SZAFARZ
---
Friday, March 11, 2022
Working Paper
---
Monday, March 7, 2022
Working Paper
---
Monday, February 07, 2022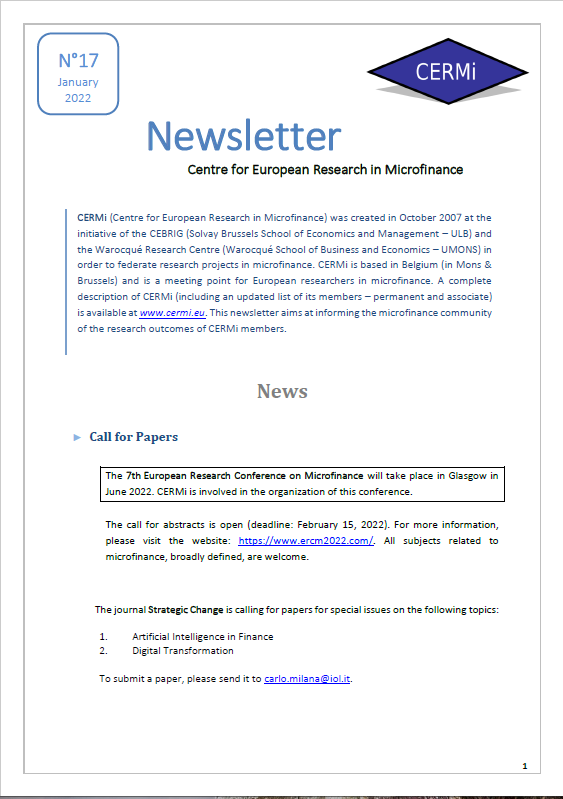 Publication
Discover our 17th CERMi Newsletter !
What you'll find in this edition :
Latest events at CERMi
Awards and prizes
Recent publications by CERMi members
---
---