CERMi News
Tuesday, December 16, 2014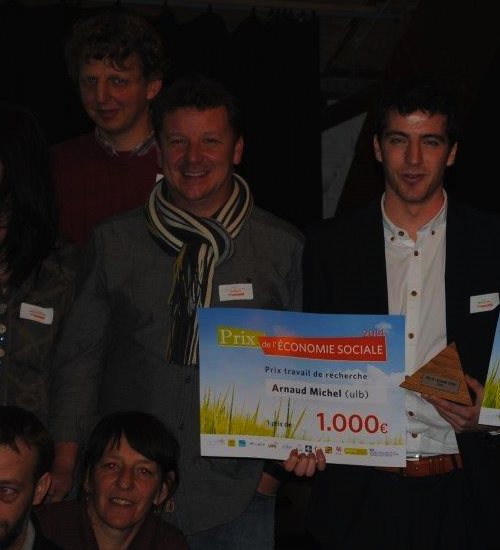 Monsieur Arnaud MICHEL, Ingénieur de Gestion SBS-EM de l'ULB a reçu ce 2 décembre 2014 le prix de l'économie sociale 2014 pour son mémoire intitulé « The impact of community currencies : A systematic Review ». Le mémoire de Monsieur Michel a été effectué sous la direction du Professeur Marek Hudon (SBS-EM).
«Le jury a apprécié l'originalité du mémoire d'Arnaud Michel qui a réalisé la première étude synthétisant les connaissances scientifiques sur l'impact économique, social et environnemental des monnaies complémentaires ou communautaires dans le monde. Ce travail constitue ainsi l'un des travaux les plus complets sur la question et est basé sur l'analyse d'une impressionnante base de données de plus de 1000 articles ou livres scientifiques collectée par le lauréat. Par ailleurs, le jury a décidé d'accorder une mention spéciale à Thibaut Leroy dont le mémoire apporte un éclairage nouveau sur les community land trust et propose des pistes intéressantes pour le développement de celles-ci en Belgique».
Le prix pour le travail de recherche consiste en la publication de celui-ci en livre numérique sur le site de Luc Pire et sur d'autres à déterminer par les organisateurs et l'éditeur - Editions Luc Pire. Le lauréat recevra également une bourse de 1.000 euros.
---
Tuesday, September 29, 2014
Discover our 10th CERMi Newsletter (September 2014)!
What you'll find in this edition :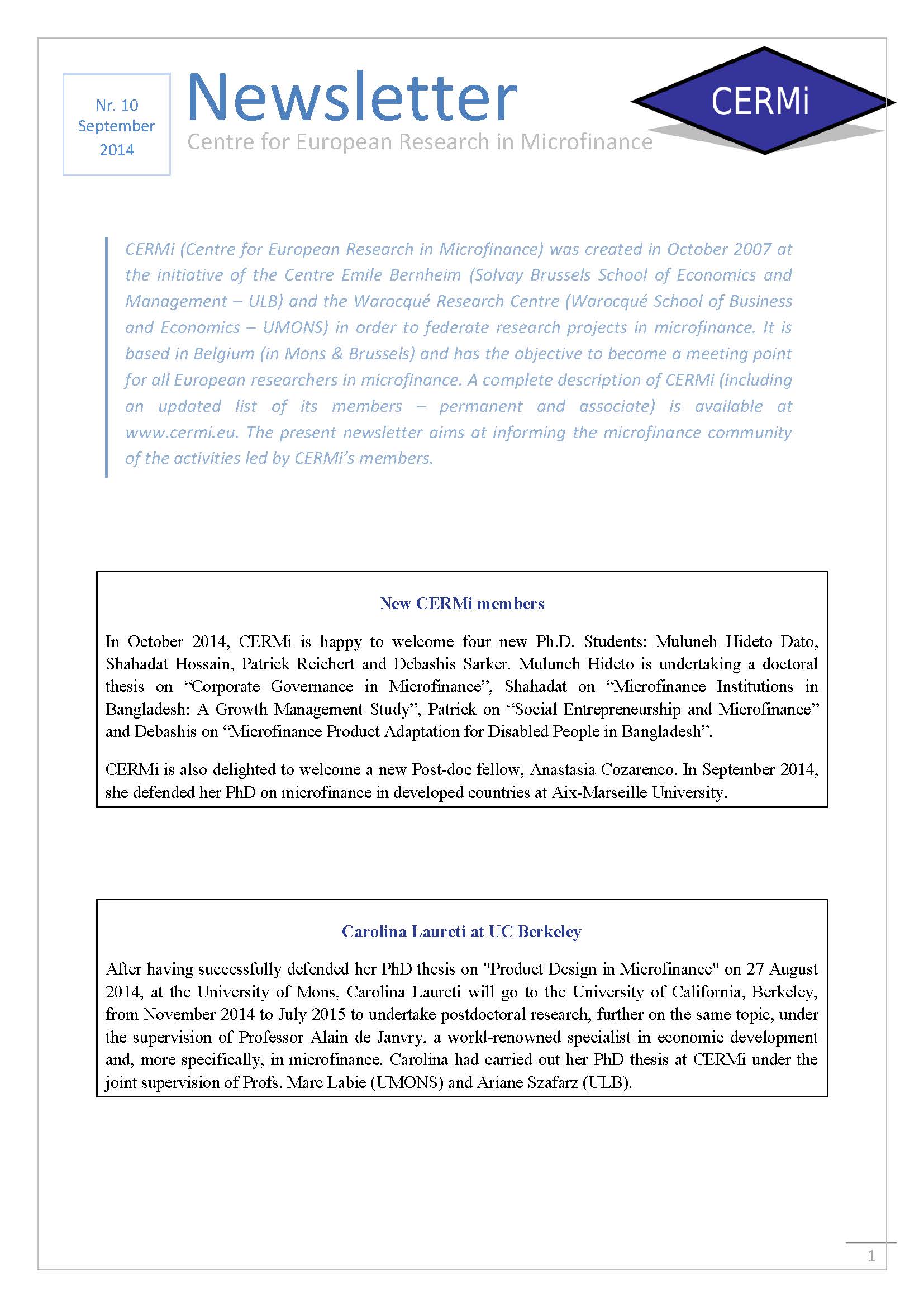 Coming events at CERMi

Recent events at CERMi
Awards and prizes
Recent publications by CERMi members
---
Monday, June 30, 2014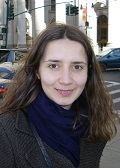 Anastasia Cozarenco and Ariane Szafarz awarded the "2014 European Microcredit Research Award".

Anastasia Cozarenco
(Aix-Marseille School of Economics) and
Ariane Szafarz
(ULB, Centre Emile Bernheim and CERMi)
are the winners of the
2014 European Microcredit Research Award
co-sponsored by the European Microfinance Network and the Hague University of Applied Sciences. The award was granted for the innovative scientific work presented in the paper "Microcredit in Developed Countries: Unexpected Consequences of Loan Ceilings." This paper develops the first theoretical model specific to microfinance in developed countries, and participates in the conversation on the nascent regulation of this young industry. The research has been carried out in the framework of an "Interuniversity Attraction Pole" on social enterprise, funded by the Belgian Science Policy Office.
---
Tuesday, May 27, 2014



Camille Meyer and Marek Hudon are granted a "Best Paper" recognition by the Scientific Committee of the 2014 Academy of Management Conference.
Camille Meyer is a FRESH-FNRS PhD student at Centre for European Research in Microfinance (CERMi, CEB; ULB). Marek Hudon is a Professor at SBS-EM (ULB) and is co-director of CERMi. Their joint paper "Microfinance and common goods: A Study of Brazilian Community Development Banks" has been judged by the reviewers of the 2014 Academy of Management Conference to be one of the best accepted papers in their program.
The annual Academy of Management Conference is the worldwide leading scientific meeting in management sciences. It typically gathers over 10,000 participants from all continents. This year, the meeting will take place in August in Philadelphia (USA).
Only few accepted papers are selected for publication in the "Best Paper Proceedings". The paper written by Camille Meyer and Marek Hudon will appear in the 2014 edition.
Congratulations to the ULB researchers for this remarkable achievement!
---
March 18, 2014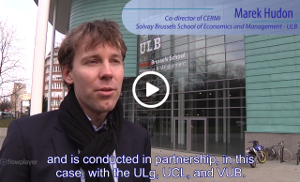 In case you missed it last year, take a look at our video presentation of CERMi (made by the ULB).
---
Monday, February 3, 2014

Carolina Laureti at University of California, Berkeley
The Centre for European Research in Microfinance (CERMi) congratulates Carolina Laureti for being granted the 2014 ULB Research Fellowship for Visiting Students (Exchange Programme) at the University of California, Berkeley. The Fellowship is offered to outstanding PhD students with the aim of promoting fruitful research collaborations between ULB and UC Berkeley. Carolina Laureti is doing a joint PhD at UMONS & ULB with a CERMi-UMONS-ARC fellowship. She is supervised by Profs. Marc Labie (UMONS) and Ariane Szafarz (ULB). Her mentor in Berkeley is Prof. Alain de Janvry, a world-renowned specialist in economic development and, more specifically, in microfinance.
---
Tuesday, January 28, 2014

Simon Cornée wins the EACB award!
We are very pleased to announce that the scientific committee of the second EACB ( European Association of Co-operative Banks) award for young researchers on co-operative banks has, after careful selection and according to the criteria established in the Call for Papers, awarded Simon Cornée (University of Rennes 1, France and CERMi associate researcher) with the joint first place.
As a laureate of the EACB for young researchers on co-operative banks, Simon Cornée will be honoured in an award ceremony during the EACB Academics and MEPs' Day on 1st April 2014 at the European Parliament in Brussels.
Congratulations to Simon Cornée for his achievement!
---
Monday, December 16, 2013
Marek Hudon wins the NVSQ best paper award!
ARNOVA (Association for Research on Nonprofit Organizations and Voluntary Action) has just distinguished an article co-authored by Marek Hudon, CERMi's co-director at SBS-EM as the Best Article published in Nonprofit and Voluntary Sector Quarterly (NVQS) for 2012. ARNOVA is the U.S.-based, international association committed to strengthening the research on nonprofit organizations, voluntary action, philanthropy and civil society.
Nonprofit and Voluntary Sector Quarterly (NVSQ) is the top ranked journal in its field! It is is an international, interdisciplinary journal for nonprofit sector research dedicated to enhancing our knowledge of nonprofit organizations, philanthropy, and voluntarism by providing cutting-edge research, discussion, and analysis of the field. NVSQ is published bi-monthly and provides a forum for researchers from around the world to publish timely articles from a variety of disciplinary perspectives.
The article is co-written by Anaïs Périlleux (Université Catholique de Louvain and former PhD student at CERMi in UMONS) and Eddy Bloy (Université de Lyon). The title of the article is "Surplus Distribution in Microfinance: Differences Among Cooperative, Nonprofit, and Shareholder Forms of Ownership".
Congratulations to the researchers for this prestigious award!
CERMi (Centre Européen de Recherche en Microfinance / Centre for European Research in Microfinance), draws together researchers, involved in microfinance activities in developing countries, from the Centre Emile Bernheim (Solvay Brussels School of Economics and Management, Université Libre de Bruxelles) and from the Warocqué Research Centre (Université de Mons). The CERMi also collaborates with the European Microfinance Programme.
Microfinance provides financial services, including credit, savings and insurance, to poor customers with little or no access to the traditional banking sector. It has come to be regarded as a very important component of strategies aimed at reducing poverty. Over the last decade, the microfinance industry has experienced rapid growth creating a constant demand for new knowledge to help guide its development.
CERMi was created as part of the Académie Wallonie-Bruxelles, with the goal to become an active participant in this process. It aims to study the management of a wide range of microfinance financial institutions, represented by NGOs, cooperatives and commercial companies. Thanks to an interdisciplinary approach, CERMi hopes to make substantive contributions to the body of knowledge on microfinance which will help the industry deal more effectively with its future challenges.
From a microeconomic and managerial perspective, CERMi is undertaking research on institutional aspects including governance and risk management of microfinance institutions, as well as the concept of a client-driven approach toward the development of financial services and products. From a macroeconomic and sociological point of view, CERMi focuses on matters of regulation and local government policy, as well as the roles played by central banks and international donors. Links between microfinance and the traditional banking sector are also analysed, and throughout this research, special attention is given to ethical considerations that are specifically relevant and critical to the evolution of the microfinance industry.